OUR WEEKEND IN LIVERPOOL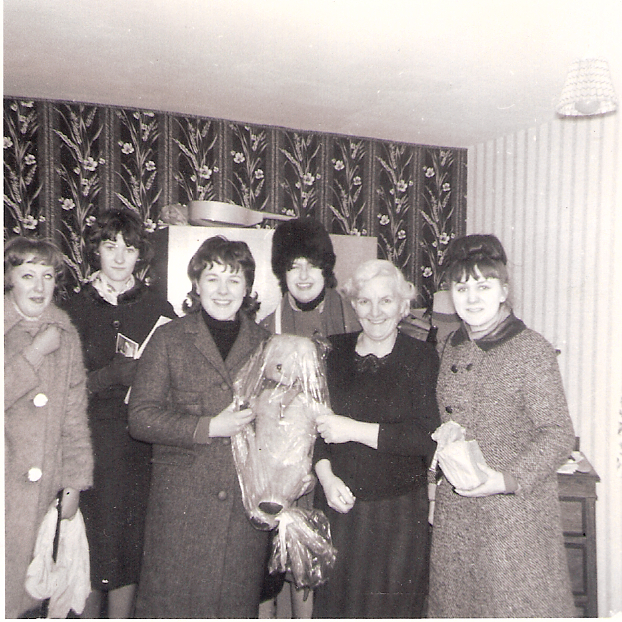 When Hunter Davies interviewed John Lennon's Aunty Mimi for his 1968 authorised biography The Beatles, she remembered her disgust at George wearing a pink shirt to the Liverpool Institute. John used to go on and on about George until she said he could come over. He arrived with a crew cut and wearing a pink shirt. She threw him out, declaring that boys should not dress like that for school.
When I read this I wondered if it was the pink shirt I had won in a Beatles raffle in 1964. George's mother said he had worn it in the Cavern and that's why it had sweat marks under the arms. I know the pink shirt belonged to him because I was standing there when his mother gave it to the two girls from Oxfam. I have photos to prove it, but what was I doing in George Harrison's house?
In February 1964 four of us went to Liverpool for the weekend to visit the Beatles' parents. It was the weekend they returned from America, a split-second before they became mega-famous, and their parents were forced to move. It was our last chance to visit the homes where the Beatles grew up.
We travelled on the night-bus from London and, after breakfast at the Punch & Judy, the Beatles' favourite cafe, we headed for Dingle where Ringo's parents lived. Everyone knew where we were going and gave us detailed directions. Admiral Grove is a narrow cobbled lane with tiny terraced houses. We knocked on the door of number 10 and were welcomed by Mrs Starkey into a small living room where two fans were already seated in front of the fire with cups of tea. The walls were covered in photos of Ringo and there were piles of fan mail everywhere. Mr and Mrs Starkey were signing autographs for us when the telephone rang. "Hello Richie!" said Mrs Starkey, her face lighting up. It was Ringo. After asking him how he was, she passed the 'phone to us, and we all spoke to him in gasps and sighs. I can just imagine, on reflection, how he felt about this—having just arrived back from an exhausting American tour. Mr Starkey spoke to Ringo for quite some time and Mrs Starkey went to the kitchen to make tea. After putting a bob in the gas meter, she brought each of us a cup of tea, and talked about her son with a radiant smile. She was literally bursting with pride. When we had been there for about an hour, Mr Starkey rang for a taxi to take us to George Harrison's house.
Macketts Lane is in the suburbs of Liverpool and George Harrison's home was a modern council house. Mr Harrison opened the door and said, "Come in girls." He was a very attractive man with gorgeous brown eyes. He led us through a tiny hall into a sitting room with a window at each end. Mrs Harrison was busily unwrapping George's 21st birthday presents with music requested for his birthday blasting out of a radio. There was a modern couch, where a fan sat with a cup of tea, and the walls were covered in photographs of George, the other Beatles, and various members of the Harrison family.
After a while two girls from Oxfam arrived, saying they were collecting personal items for a Beatles raffle. Mrs Harrison went upstairs and brought down one of George's old shirts. It was pink with black stains under the arms because, she explained, he wore a black polo-neck jumper underneath it when he played in the Cavern. She said he sweated so much, his clothes were dripping when he arrived home. We all bought tickets for the raffle, which included some of John Lennon's hair. I do not normally win anything in raffles, but I won George's shirt and John's hair. I kept the shirt but gave the hair to Janice who loved John the most. Although we were devoted Beatles fans, we each had our favourite, and mine was George. I didn't know it then, but we both followed the path of meditation and mysticism.
When Mrs Harrison asked us if we'd like to go upstairs, we jumped at the offer, and followed her up a narrow staircase. On the walls were drawings and photos of George. At the top of the stairs was a big colour picture of the Beatles in old-fashioned swimsuits. George's bedroom was a medium-sized modern room with another big picture of them in their swimsuits. His bed was in the middle of the room and was covered in presents for his twenty-first birthday. There were bits and pieces all over the room and inside his wardrobe were records as well as clothes and shoes. His jeans were slung over a chair under the window. We all had our photographs taken with Mrs Harrison, and then went downstairs where we signed our names in a Visitors' Book which was kept in the hall next to the telephone. Mr Harrison showed us to the door when we eventually left and waved goodbye to us all.
Leaving Macketts Lane we caught a bus to Menlove Avenue which is in a better-class area of Liverpool and is a wide new road. The house where John Lennon grew up was silent. A red-haired boy opened the door, with a bemused grin on his face, and told us Aunt Mimi was ill. We did not know then that she had gone with the Beatles to America and was probably suffering from jet-lag. We told him we had travelled 200 miles to give John and Cynthia a cake, which he obviously thought was hilarious. He said he was John's cousin but he refused to give us his autograph. I now recognize him as John's red-haired cousin in the film Nowhere Boy. After we had asked for buttons, he brought us a tin of them which we helped ourselves to. It was a well-known fact that Aunt Mimi gave John's old buttons to fans.
Getting to Paul's house was no easy task as we stood at one windy bus stop after another, getting colder and colder. Two Liverpool girls did not cheer us up by saying we would not get into Paul McCartney's house; nobody ever did. So, feeling a little apprehensive—yet still excited—we arrived at 20 Forthlin Road in the suburbs. It is a quiet road with 'Beatles' written on the signpost. The houses are terraced, fairly new and clean. Number 20, along with some other houses like it, stands off the road with a lawn and hedge in front of it. One of us knocked on the door, I started my tape recorder, and the door was opened by a slim middle-aged man. Although we all knew who he was, one of us asked, "Are you Paul's father?" and suddenly the ice was broken. "Come in" he said, "I'm just getting my tea ready." So in we all trooped through a hall into an untidy sitting room littered with stuff, but everything about it was wonderful. In one corner were three guitars, and in another corner washing hung on a wooden clotheshorse. A piano stood against the far wall covered in fan mail, the Beatles latest LP covered in cellophane, a multi-coloured scarf and a Beatle-doll. An old settee covered in newspapers and two equally old armchairs stood in the middle of the room opposite a small television. When Mr McCartney asked what I had in my handbag, I told him it was a tape-recorder. "Infernal machine!" he exclaimed, and told me to turn it off, which I did. He told us to take our coats off and sling them over the banister in the hall where one of Paul's coats was hanging. He led us through the sitting room into a small dining room with a table covered in a slightly soiled white tablecloth. There were four chairs, a sideboard with a transistor radio on it, and a telephone. The dining room led into a small kitchen with newspapers on the floor, which Mr McCartney said was easier than having to wash the floor. A dresser stood just inside the door. A new washing machine was under the window, which over-looked an overgrown garden, and along the far wall was a sink and a cooker with shelves above them holding pans and china. Another door stood beside the cooker with a teacloth and towel hanging on it. On top of a cupboard in another corner were piled literally hundreds of empty egg-cartons.
Mr McCartney put our cake on top of the washing machine which we said had been used in a photograph of Paul putting washing into it. He remarked that it was the only time Paul had ever even touched it, and he joked about the plastic daffodils on the window sill. He told us Dezo Hoffman had taken photographs of the boys in the house. He asked us if we'd like some soup and proceeded to open two tins of chicken soup, showing us his special tin opener fixed to the wall. He told Janice to cut bread while he stirred the soup, adding Quaker Oats to it. On a line above the sink hung a row of black socks. When Janice began coughing, he produced Owbridges cough mixture, saying it was wonderful stuff. He pointed to the ceiling, which was flaking, and told us he'd be in trouble with the health inspector if he saw it. He explained that the house lacked the feminine touch. For a week after his wife died he said he'd kept things tidy but now he didn't care. He sounded lonely. When the soup was ready I dished it out and set the table. He gave us dessertspoons and said he hoped we did not mind. We would have eaten the soup with teaspoons! We were euphoric.
Before sitting down to the meal he explained that he had all of his suits downstairs to avoid having to go upstairs for them, and he showed them to us all hanging on one hangar behind the door. There was one of his jackets hanging on the back of the chair I sat on. He told us that when he first heard himself on a tape recorder he was horrified at his accent because he didn't think he had much of one. He explained to us that Paul's fame had been so gradual that he now totally accepted it. At first the continual flow of fans had annoyed him but now he quite enjoyed it.
On the wall by the telephone were a number of strange marks on the wallpaper. He asked us what we thought they were. It looked like the bricks were showing through the wallpaper. This, he informed us, was the work of 'James Paul' who made patterns on the wallpaper every time he spoke on the 'phone, and he even showed us how Paul had done it. The ceiling light had a big hole in it, which he also pointed out to us.
After the meal we helped clear the table and washed the dishes. We thought we would be thrown out but instead he said, "In half an hour we'll have a cup of tea." He told us to sit down. Maxine, Jenny and I sat on the settee. Mr McCartney sat in one armchair and Janice in the other one. He sat with his ear against the wall, explaining that he was deaf in one ear owing to a fall he had had when he was ten years old. What followed was a wonderfully intimate conversation between four devoted fans and one very proud father.
He told us that he had wanted Paul to be a doctor because he had always been interested in these things. At five he had found one of his mother's books (she was a midwife) showing a baby inside its mother's tummy. Paul had turned to his father and asked "Daddy, is that a baby in it's mother's tummy?" "Yes", Mr McCartney had replied. "Was I in Mummy's tummy?" he'd asked, and when his father again said "yes", he just thought about it, asking no more questions. Paul would have been a doctor too if he hadn't failed his Latin exam and this, explained Mr McCartney, he did on purpose! He told us Paul had it 'up top', pointing to his head, he had sensible ideas and had always been very self-sufficient. Even as a baby he resisted being held. Mike, his younger brother by eighteen months, appeared in a television show called The Gazette with a group called The Scaffold who specialized in a weekly satire program on Northern T.V. He told us Mike was at a party in Manchester, and he showed us some photographs of Mike who was very good-looking. He said that, in his opinion, Mike had a better singing voice.
We watched the Beatles arriving at Heathrow airport on the evening News which was a surreal experience for us sitting there with Paul's father. We would have been with the thousands of fans if we had not decided to go to Liverpool instead.
Mr McCartney refused to sign any autographs, explaining that he liked to stay in the background. When I asked him if he had any photos of Paul as a baby he said the press had them all but then left the room and returned with a pile of them. Most of them were family snaps of Paul and Mike running around in short trousers or standing together looking impish. Their mother had an angelic face, and in one photo she looked like a nun wearing her nurse's uniform. As Mr McCartney talked about her, it was obvious that he loved her a lot. There was a photo of Paul in someone's arms as a very young baby with fair hair. As a little boy he had a fringe and a round face with huge sparkling eyes. On school photos he looked adorable. We were surprised to see that there were no photographs of Paul in the house! We were told that as children Paul and Mike were like twins and from the back they were identical. Paul had of course been christened James Paul but his father had decided to call him just Paul when he realized he might be called 'little Jim'. Mike had been christened Peter Michael but then people would say:
"Two little birdies sitting on a wall
One named Peter, one named Paul
Fly away Peter, fly away Paul
Come back Peter, come back Paul."
So 'Peter Michael' became just 'Mike'.
As children Mike and Paul had often gone to a farm to steal apples. One day, however, their friends returned without them explaining that they were still at the farm. Mr McCartney went to investigate and found his two sons locked up in a shed. Going with the farmer to the shed he said, "Shall we call the police?" hoping to scare them, but instead they just said "Hello Dad" when they heard his voice.
In one photograph Paul and Mike were sitting with some other children who were neighbours. When they first moved in to their house the children next door were digging a hole in the garden. Paul and Mike had yelled over the fence, "What ya doing?" "Digging a hole" they yelled back. "Bet we can dig a bigger one!" shouted Mike and Paul, beginning to dig, and so the friendship began. The photographs were perfect and we could not stop looking at them. When the telephone rang Mr McCartney went into the dining room and, popping his head around the door, he said, "You won't pinch any, will you?" Of course, we didn't.
He explained that usually he told fans to 'bugger off', and if he told us to, we'd have to do just that! The telephone rang a few times during the evening and after a while he told us to make tea. Maxine and Janice immediately obliged whilst Jenny and I talked to him. We asked about Paul's trumpet and he told us Paul really couldn't play it properly because he has soft lips, and to play a trumpet you must have a hard leather lip. He explained that Paul was very quick on the uptake and was able to play bass guitar quickly. He was quite capable of doing two things at once. He always did his homework watching TV. Also, being left-handed, he had done everything back to front and once wrote his name backwards without realizing it.
Paul and George had often hiked together but Mr McCartney always told Paul that they were begging when they hitched a ride. Paul explained that many of the people who gave them lifts wanted the company and, therefore, they were doing them a good turn. He said Paul always had an answer for everything.
When there was a knock on the door Mr McCartney answered it and brought a young man into the sitting room. He was tall and slim with fair hair and a mouth like Mike's. He was introduced to us as Ian, Paul's cousin. Ian sprawled in one of the armchairs and began talking about something he was trying to repair. His hands were all cut and dirty. He talked about Paul quite naturally and the 'other boys'. They talked about the American trip and Mr McCartney said he could have gone but if he had, he wouldn't have seen much of Paul. He said he could have made a fortune at his own door. Mysterious noises were coming from the dining room and Mr McCartney suddenly flung open the door to find Maxine and Janice searching for saucers. They were one short. He found one and said he would leave Paul's cake until he came home, which would be in March.
When the tea was ready we all sat around the open fire with our cups and saucers but Mr McCartney spilt his tea on the floor. Mopping it up he said it didn't matter, but if anyone else had done it, he would have thought differently. Ian passed around cigarettes. I was the only one who did not smoke and it's interesting that it was considered normal for teenagers to smoke in those days. Mr McCartney smoked a pipe. He kept joking about his 'Persian rugs', which were actually bits of threadbare carpet. "The place looks a mess," he said, adding that they would soon be moving to another house. (He moved to Cheshire and remarried.) Before the National Trust bought the house the door into the dining room had been blocked up. The sitting room appears in the film Nowhere Boy but is unrecognizable to me!
When we'd finished our tea, Ian Harris, Paul's cousin, signed autographs for us—treating it as a huge joke! He told us he had a little boy at home just like Paul.
I asked Mr McCartney if we could see Paul's room to which he replied "No", but then said, "Come on, I'll take you on a guided tour", and he led us upstairs. He opened Paul's door with a key and closed the curtains. It was a tiny room, nothing more than a box room, with paintings and pictures all over the walls. Hanging behind the door was a long print which appeared to be a scene from the Bible. There was an abstract drawing of a face and on a little table beside his bed were books, papers and two photographs of Paul, one of him in a fur hat. The bed was under the window and above the pillow hung a beautiful abstract painting, which looked like a gorgeous exotic bird. Ian said Paul had painted it in a blue mood. High up on another wall were two big posters, one advertising the 'Silver Beatles'. On another table were some odds and ends including a throat spray, an Easter Egg and a photo of Cliff Richards. I asked to take a photo of the room but Mr McCartney told us this was Paul's sanctuary where he went to get away from things.
He then showed us Mike's room where Paul had slept until he decided he wanted to be on his own. This was a complete shambles. On the floor were pajamas just stepped out of, a hot water bottle, a pair of sandals, and out of the open wardrobe papers, letters, shoes and clothes were falling out. This room had been completely decorated by Mike and was way-out to the extreme. The curtains were half brown and half fawn. A patch above the window had not been papered but was painted in splashes of different coloured paint. Above the door was another bare patch oddly shaped with a postage stamp stuck on it. In a corner were more letters and different kinds of daggers and swords. Paul had brought one of the daggers from Greece. Behind the dressing table in another corner of the room a bowler hat was balanced on top of a pole. The bed was unmade.
We all paid visits to the toilet where we were struck by a drawing of a distorted face right beside the toilet bowl with 'Paul McCartney is coloured!' written on it. We all took some pieces of toilet paper and washed our hands in the bathroom where hundreds of bottles were crowded onto the window sill. After washing my hands I went downstairs to where the others were putting their coats on. We collected our belongings and Mr McCartney told us at the door not to send him a thank you letter as he had too much mail. He came right out into the street with us as we all piled into Ian's truck. Ian had offered to drive us to a hostel. We all squashed onto the front seat—all five of us, and Mr McCartney stood waving to us all the way down the road.
It was an exhilarating experience being driven through the dark streets of Liverpool in Paul's cousin's truck. Ian told us how natural and unspoilt the Beatles were. He explained that Paul has a large family with their own unique sense of humour which is often hard to understand because it's so zany. We told Ian he was fab and he laughed. At the hostel he helped each one of us out of the truck, then blowing kisses to us all, he drove away.
He had driven us to the Liverpool Home for Destitute Women.
© Marilyn Barry 2014 – originally written in 1964.